Green Brain Comics

proudly presents: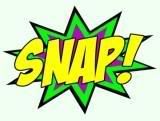 SNAP!
The Comic Arts Festival
Saturday November 4th.
Guest list

Green Brain Comics
proudly presents:
SNAP! The Comic Arts Festival 2006
will be held on
Saturday November 4th 2006
At Al Matta Hall
5121 Oakman Blvd.
Dearborn MI
Guest list for November 4th 2006

Updated11/03/06
(Due to unforeseen circumstances Young American Comics will not be able to attend SNAP!
we apologize for this last minute schedule change and we hope that YAC can attend next year.)

Duane Abel
Corkey Comics

Eric Adams
Lackluster World

Ambit
Cyclene Records

Jeremy Bastian
Cursed Pirate Girl

Suzanne Baumann
Fridge Magnet Concoctions

David Beyer Jr.
Beyer Beware Productions

Sean Bieri
Jape

Pam Bliss
Paradise Valley Comics

Jason Brooks
Good Comics

Bubblegone
Cyclene Records

Michelangelo Cicerone
Ozone Jones Comics

Bob Corby
Back Porch Comics

Andrew Davis
Wide Awake Press

Evan Derian
Dead City Comics

Matt Feazell
Not Available Comics

Wendi & Sean Frost
Hula Cat Comics LLC

Chad Halcom
E Train Comics

Matt Hansen
Media Play

Nik Havert
Pickle Press

Nate Higley
Photocopied Hearts

Marty Hirchak
Pop Art Funnies

Erik Hodson
Melby Comics

Barb Houck
Many Mammals

Mike Indovina
Satyr Play Productions

Max Ink
Onward Studio

Matthew Jeske
Matthew Jeske Productions
Paper Trail

Josh Johnson
The Spindletons

Bill Loebs
Journey, Wonder Woman

Jim Mackey
Available Light Workshop

Sean McGurr
Jury Rigged Comics

Tony Miello
Boneyard Studio

Dara Naraghi
Ferret Press
Big City Blues, PANEL anthology

Marc Nischan
Fine artist, Fine musician

Jim Ottaviani
G.T. Labs

Douglas Paszkiewicz
Arsenic Lullabies

David Petersen
Mouse Guard

Ray Scott
Twisted Gate Entertainment

Gary Reed
Actionopolis, Renfield, Deadworld

Brett Pinson & John M. Styrk Jr .
Boomtown Press

Jimmy Proctor
Zombie Bob Gets a Job

Dean Stahl
Steelhorse Studios

Paul Storrie
Revisionary, Justice League Unlimited

Aaron Trudgeon
Ancient Wisdom Comics

U of M School of Art and Design
Empty Pockets

Rosemary Van Deuren
Fine art and Illustration

Verzerren
Cyclene Records

Tom Williams
Draw Robot Designs

Rob Worley
Advent Rising, Heir to Fire

This is a constantly updated page, check back for future additions.
If you have any questions, please contact us. greenbrain@greenbrain.biz
or come by the store at:
Green Brain Comics
13210 Michigan Avenue
Dearborn, Michigan
48126
1-313-582-9444