SAVING THE WORLD, ONE BRAIN AT A TIME
VOTED MICHIGAN'S BEST COMIC BOOK STORE OF 2003 *BY DETROIT NEWS READERS

Past Events
Slideshow from the Brian K Vaughan appearance
Pictures from Mikhaela Reid/Masheka Wood appearance 1 / 2
New videos from the event posted below.
---
Pics from Jane Irwin's recent signing appearance: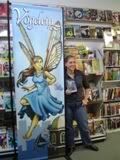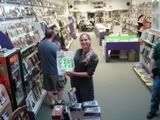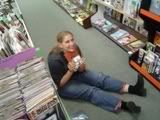 ---
FREE COMIC BOOK DAY 2007
Slideshow of Mayor Jack O'Reilly cutting the ribbon on FCBD
Watch this documentary now!
courtesy of Jon Hickey Productions

And this FCBD documentary by The Russells

This interview with Scott McCloud was filmed by The Russells

Finally, an answer to the ultimate question.



Brian K. Vaughan signing at
Arab American National Museum
Saturday November 18th 2006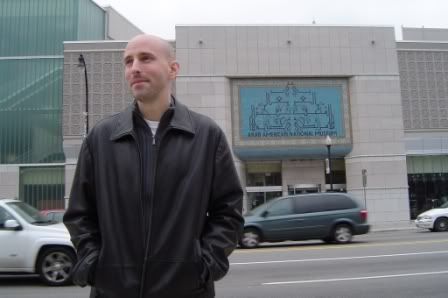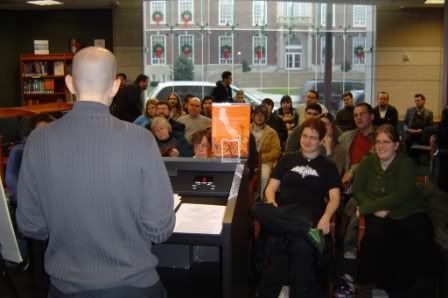 BKV back at Green Brain Comics
for some cake.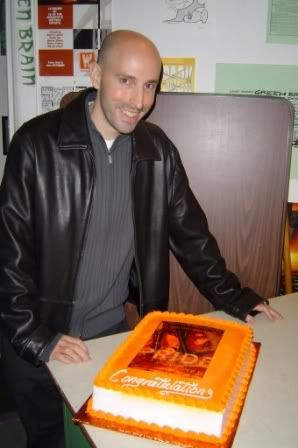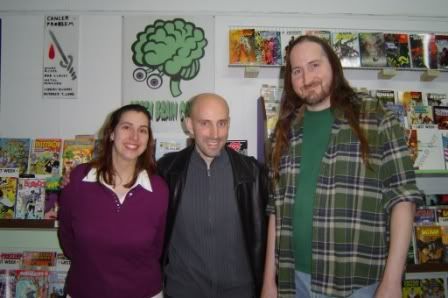 FCBD 2006 Guestlist included
Tod and Corey Parkhill who run a publishing collective called Young American Comics.


Sean Bieri creator of Jape
Eric Hodson artist for Melby Comics.
Jim Mackey creator of Jackpot Bear
Paul Storrie writer of Revisionary, Justice League Unlimited
Suzanne Baumann creator of Turtleneck Boy
Marty Hirchak creator of Pop Art Funnies
Michelangelo Cicerone creator of Ozone Jones



Live entertainment was provided by the electronic stylings of
Bubblegone vs. Verzerren
NEIL SWAAB SIGNING


Pre-SNAP! Reception 10/28/05

Bubblegone /
Verzerren
Stapling time at the pre-SNAP! reception
Party winding down, big day tomorrow!
More SNAP! pics on the
SNAP!
page soon.
---
KEITH KNIGHT ( K CHRONICLES)
ROLLED INTO TOWN THURSDAY OCTOBER 20TH
FOR A BOOK SIGNING AND SLIDE SHOW
(PICS POSTED SOON)


Keith Knight / Matt Schwartzman
A shot from Keith's slideshow (page from
The Beginner's Guide to Community-Based Arts
)
---
---
Steve Peters' Chemistry Tour
SATURDAY JUNE 4th
See
Steve's site
for pics.
www.awakeningcomics.com
---
FREE COMIC BOOK DAY 2005

AT GREEN BRAIN COMICS
SATURDAY MAY 7TH
10AM-9PM

The variety was so astounding, grown men were brought to tears

Everybody got free comics and Jones Soda


Our special guests wowwed even the most unimpressionable


And the Smarties rocked the house!


EVERYONE THAT STOPPED BY GOT A FREE COMIC BOOK
Additional Free Comic Book Day books were available
for a small donation to one of our favorite non-profit organizations.

( WHFR, Friends of Lulu, Comic Book Legal Defense Fund, ACTOR)
---
The Padzieski Art Gallery and Green Brain Comics is pleased to announce the first exhibition of the 2004/2005 professional season.
A Tribute to Comic Art
From WHAM!tramck
TO YIPES!ilanti
A Festival of Local Comic Art, Music and Video
The Padzieski Art Gallery is pleased to announce the first exhibition of the 2004/2005 professional season entitled From WHAM!tramck to YIPES!ilanti, A Festival of Local Comic Art, Music and Video. The exhibition runs from September 9th to November 6th, 2004 and is free and open to the public.
Comic art is one of the few truly American art forms. A highly misunderstood medium, comics are often perceived as superheroes trying to save the world. Instead, present day comics often combine sequences of words and images to convey profound messages which reflect an artist's perception and creativity.
The Metro Detroit area is home to many alternative and mainstream comic artists. Every Wednesday evening, Matt Feazell, creator of the Cynicalman comic opens his Hamtramck home to a group of talented artists. They are painters, musicians, graphic designers, writers, filmmakers and printmakers. The unifying premise of these individuals is their passion and enthusiasm for the freedom of self expression through the field of comic art. The artists are as follows; Suzanne Baumann, Sean Bieri, John Boissy, Bill Bryan, Matt Feazell, Gary Freeman, Kal-el, George McVey, Jim Mackey, Yul Tolbert, and Aaron Trudgeon.
From WHAM!tramck to YIPES!ilanti attempts to eradicate the stereotypical views on comic art through the presentation of this group's vast array of art work done in various media. A short video portrays visits and discussions with each of the artist's in their studio and is looped with other films produced by group members. Video in conjunction with the artwork enables the viewer to gain an insight into the differences and commonality of each artist while developing a deeper understanding of comic art.
The Padzieski Art Gallery is a cooperative venture between the Dearborn Community Arts Council and the City of Dearborn. Art Gallery programming is made possible, in part, with the support of the Michigan Council for Arts and Cultural Affairs. Partial sponsorship for this exhibition is provided by Green Brain Comics www.greenbrain.biz Gallery hours: Tuesday through Friday 12:00 pm. to 6:00 pm., Saturday, 12:00 pm. to 5:30 pm. and through intermission during theater performances. The Padzieski Art Gallery is located at 15801 Michigan Avenue in Dearborn, Michigan at the Ford Community and Performing Arts Center. For information on this exhibit or our upcoming schedule, call the Dearborn Community Arts Council at (313)943-3095 and visit the website at www.dcacarts.org
---
Yeah!!! Metro Times met us halfway.

Even though they didn't have a Best Comic Store in Detroit category this year, their Design Director Sean Bieri was given the opportunity to showcase his Best of Detroit choice.
The following strip is Sean's opinion of...

---
We at Green Brain Comics would like to thank
everyone that helped our yearly contribution to the

Comic Book Legal Defense Fund.

We would also like to thank Heidi Macdonald at The Beat
for allowing a forum for us to express our gratitude for all
the great work the Fund did this year.



COMIC SEMINAR & LOCAL SMALL PRESS EXPO
SATURDAY, SEPTEMBER 25, 10 AM TO 4 PM
FORD COMMUNITY & PERFORMING ARTS CENTER
15801 Michigan Avenue — Dearborn, Michigan
LOCATED AT THE CORNER OF GREENFIELD AND MICHIGAN AVENUE
ADMISSION: $8.00 ADULTS, $5.00 CHILD, AGES 5 AND UNDER FREE
DEMONSTRATIONS, WORKSHOPS, LECTURES, HANDS ON ACTIVITIES,
EXHIBITING COMIC ARTISTS and FUN FOR THE WHOLE FAMILY
SCHEDULE OF EVENTS —
10 AM: COMICS, ART AND SCIENCE: TELLING STORIES WITH PICTURES (THAT DON'T MOVE) - (JIM OTTAVIANI- WRITING AND PUBLISHING GRAPHIC NOVELS ABOUT SCIENTISTS IS A THIRD CAREER FOR JIM, ONE THAT RUNS IN PARALLEL WITH HIS DAY JOB AS A LIBRARIAN AT THE UNIVERSITY OF MICHIGAN. LIKE THAT LIBRARY WORK, HIS PREVIOUS JOB AS A NUCLEAR ENGINEER INFORMS THE CONTENT AND STYLE OF THE BOOKS FROM G.T. LABS. )
11 AM: THE ART OF JAPANESE ANIMATOR, MIYAZAKI - (SEAN BIERI- HAS BEEN CREATING MINI COMICS SINCE 1990. THIS SKILLFUL ARTIST AND STORYTELLER LIVES IN HAMTRAMCK AND IS THE ART DIRECTOR FOR DETROIT'S NEWSPAPER, "METROTIMES".
1 PM: MARK CRILLEY IN ACTION: A LIVELY READING AND DRAWING DEMONSTRATION - (MARK CRILLEY BORN IN INDIANA AND RAISED IN DETROIT, MARK HAS WRITTEN AND ILLUSTRATED MORE THAN FIFTY ISSUES OF THE ACCLAIMED AKIKO COMIC BOOK SERIES, AS WELL AS PUBLISHED BY RANDOM HOUSE CHILDREN'S BOOKS. HIS WORK HAS BEEN FEATURED IN ENTERTAINMENT WEEKLY, USA TODAY AND CNN HEADLINE NEWS. )
2 PM: HOW TO CREATE A MINI-COMIC WORKSHOP - (MATT FEAZELL IS A FREELANCE GRAPHIC ARTIST LIVING AND WORKING IN HAMTRAMCK. WHEN HE IS NOT HELPING AD AGENCIES MAKE NEWSPAPER ADS FOR LUXURY FORDS, HE'S WRITING, DRAWING AND COLORING A MONTHLY FEATURE FOR DISNEY ADVENTURES MAGAZINE AND PRODUCING A WEEKLY COLOR CYNICALMAN COMIC STRIP FOR SERIALIZER.NET. )
3 PM: THE HISTORY OF COMIC ART - (DAN MERRITT CO-OWNER OF GREEN BRAIN COMICS, HIS MISSION IS TO DE-MISTIFY THE PROCESS OF COMICS. THROUGH THE HISTORY OF COMIC ART
HE ENABLES THE PUBLIC TO VIEW COMICS AS A TRUE ART FORM. )
FOR MORE INFORMATION PLEASE VISIT THE DEARBORN COMMUNITY ARTS COUNCIL WEBSITE WWW.DCACARTS.ORG, OR CALL THE DCAC OFFICE @ 313.943.3095
April 24th 2004 was 24 Hour Comic Day was a great success!
The Detroit News gave us a great write-up for 24 Hour Comic Day.
Read about it here.
24 artists participated here at Green Brain.
Almost 500 artists participated around the world. Outstanding.
We would like to thank everyone that took a day out of their schedule to draw,
and everyone else that played a part in making this a very special day.
Watch for an announcement soon, if any of our entrants get
chosen for a special collection coming later this summer
from About Comics.

Sequential Tart's Retailer Corner for February
Our good friend James Sime at Isotope Comics in San Francisco,
gave us a great recommendation to Sequential Tart.
Sequential Tart is a great website that is run by a swell bunch of folks.
Check out the interview we did for their Retailer's Corner.
Green Brain Comics would like to thank
Jane Irwin, creator of Vogelein
for visiting and signing copies of her new collection
Copies of: VOGELEIN CLOCKWORK FAERIE TP
are available, or check out the on-line preview.



Green Brain Comics hosted
Matt Feazell creator of the Amazing CynicalMan
Wednesday December 3rd from 5pm-8pm
Matt Feazell signed copies of his new collection of
The Amazing CynicalMan
Thanks for stopping by,
and keeping Matt busy sketching.
And thanks to Paul Sizer for the captioned photo.

Thanks to everyone that stopped by for Green Halloween!
The event was a great success, everyone had fun, the music was great,
and we raised lots of money for non-commercial radio station WHFR.FM!



On Saturday September 13 2003, Sixteen brave souls
risked their sanity to create a 24 page comic in 24 hours.
All of them survived.
CHECK OUT THE GREAT PRESS THAT WE GOT FOR FREE COMIC BOOK DAY
OPEN 7 DAYS
MONDAY - SATURDAY 10AM - 8PM
SUNDAY 12PM - 5PM

GREEN BRAIN COMICS
IS LOCATED AT
13936 MICHIGAN AVENUE
3 BLOCKS EAST OF SCHAEFER
1/2 MILE WEST OF I-94
DEARBORN, MICHIGAN
313-582-9444